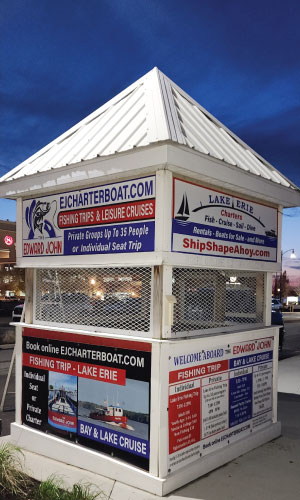 PLEASE DO NOT PURCHASE YOUR FISHING LICENCE UNTIL YOU ARE SURE THE BOAT IS LEAVING THE DOCK. LAKE ERIE IS FAMOUS FOR LAST MINUTE WEATHER SURPRISES AND THE FISH AND GAME COMMISSION DOES NOT REFUND YOUR $$
It only takes a few minutes to get your license online. Link above.
What to Bring
Bring a small cooler with your drinks and food
BYOB – no hard liquor and NO GLASS
A seat cushion if you enjoy a soft seat
Camera, sunscreen, motion sickness pills (take BEFORE boarding if necessary)
Be sure to bring a sweatshirt or jacket – Even if its warm on shore!
Rod and reel rental $5.00 – please add this item during your reservation (private charters – we include your poles!)
Bait (worms) – please purchase during your reservation. $5.00/dozen or bring your own (average needed – 1 dozen per person) can be purchased once on the boat also. If you want live minnows you will have to bring them. We do have salted minnows on board. (included with private charters)
We provide buckets that you can put the fish in until crew can help you
Adults need valid fishing license with Lake Erie Stamp – please have it available upon boarding as our crew will be checking.
Crew will clean fish $4 for walleye. $0.50 for perch on the way back to the dock. And they put them into baggies for your convenience. So a small cooler is perfect.
Our crew works for tips. Please be sure to bring cash, or gratuity can also be added to your credit card.
What tackle should we bring if we want to bring our own?

6-7 foot medium light rod spooled with 10-15 pound braid. Crappie rigs. Sabiki rigs. Worm harness. Sinkers 1.5pz, 2oz, 3oz, 4oz. Erie-derie in 3/4oz.
Can we have more than one pole per person?

You can only have one in the water, but it is okay to have a second one rigged.
Are there drinks and food to purchase onboard?

There is cold bottle water and several types of soda and juice to purchase as well as a variety of chips.
Are worms the only bait offered?

We have night crawlers and salted minnows on board. If you pay for nightcrawlers we include some salted minnows if that is what is needed to
If we don't rent a pole can we use the boats tackle?

The only way to use our tackle is to have it on our poles. Otherwise it might not get returned.